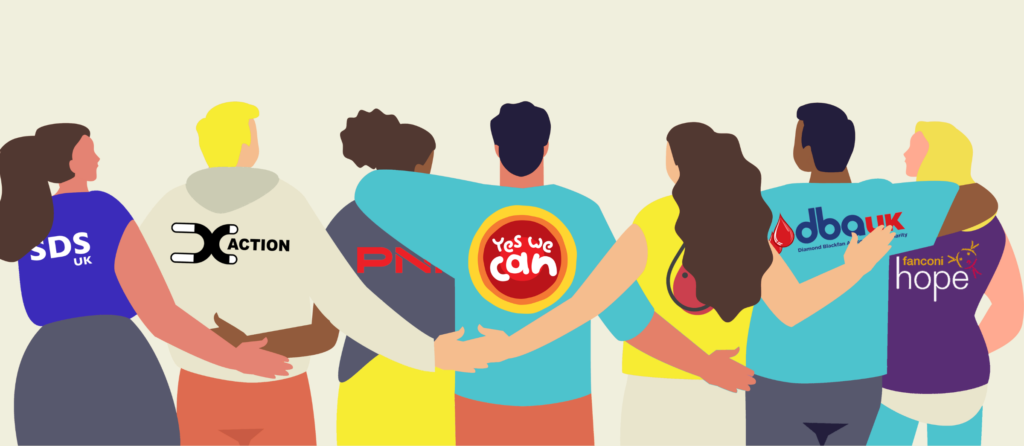 Introducing: The Better Together For Healthy Bone Marrow Project
Posted on
We are delighted to announce that our alliance of seven charities have secured support from The National Lottery Community Fund to build an ambitious three year project.
This project is called "Better Together for Healthy Bone Marrow". It will support our communities and strengthen our organisations.
Over the next three years, our organisations will work together to deliver improved support for our communities – people affected by a range of related rare bone marrow failures that are not caused by cancer.
The seven small but mighty organisations in this partnership are:
• The Aplastic Anaemia Trust
• CAN (Congenital Anaemia Network)
• DBA UK
• DC Action
• Fanconi Hope
• PNH Support
• SDS UK
What will this project achieve?
Because of Better Together for Healthy Bone Marrow, people affected by these rare bone marrow failures will be better informed, less isolated and more connected, and more resilient.
This is a three-year project with a long-term impact. Each of our charities will become stronger and more resilient, better placed to work with and for their communities into the future.
Alex Naylor, Trustee of PNH Support:
"PNH Support is delighted to announce the launch of this new three year project and partnership funding from the National Lottery Community Fund. Working with The Aplastic Anaemia Trust and the other members of the Better Together for Healthy Bone Marrow Alliance we will be able to deliver improved mental health services to our community and increase awareness and support for those living with or affected by ultra-rare blood conditions.
This project brings with it an opportunity to share the extensive knowledge and experiences of the seven small but mighty charities that make up the Better Together for Healthy Bone Marrow Alliance. The project will also allow us to improve our offering and information for not only the PNH community but also across the wider patient community living with bone marrow failures."
What does this mean for people affected by PNH
This project will respond to the challenges faced by people with rare bone marrow conditions by:
Delivering mental health and wellbeing support to people in our community – working safely and effectively within a Clinical Governance and Excellence Framework
Bringing people together through events and people-led projects
Providing better information, advice and support
The means people affected by PNH can look forward to new ways to be involved with PNH Support and new and improved support services and information from us too.
How can I get involved?
Watch this space! The project will provide brand new opportunities for you to engage with us, and with the other alliance charities. Sign up as a member here if you haven't already to receive our email updates to hear about these opportunities or contact us on contact@pnhuk.org.
Join the team
To deliver this project, The Aplastic Anaemia Trust (who are the project grant holder) are recruiting a Project Manager and Project Officer. These exciting roles will work in partnership with all Alliance charities to deliver on the aims of the programme. You can read more and apply for these roles here.
With thanks to…
This project is funded by The National Lottery Community Fund – thanks to players of The National Lottery.
We would also like to thank everyone who shared their insight and personal experience with us to support with designing this project and applying for the funding. We are so grateful to you for your help.